While MantisBT is a great bug tracker, there are a number of settings that aren't available in the standard user interface. Typically you need access to the config_inc.php file on the server. Rather than make you learn PHP there is a new management page available from your settings page:

Click the "Manage Global Settings" link and you'll see the new options you can control.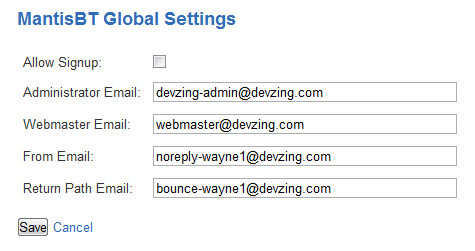 Allow Signup controls the ability of end users to request a MantisBT account on your system. This is turned off by default.
The various email settings apply in different places around the system.
You may want to change the "From" and "Return Path" settings to your email so you are notified when messages bounce and your users can get a hold of you easier.
Thanks and let me know of any other settings you'd like to see here.
Tired of managing your MantisBT? We are the experts at hosting MantisBT. Free migration from your existing MantisBT. We keep everything patched, updated, backed up and running fast.